1987 – 1992
Weavetec began in 1987 when Harold Pennington, Sr. and Haskell Mallory started a small commission weaving operation in Spartanburg, South Carolina.  Both owners had extensive experience in the textile industry.  Harold, Sr. graduated from Clemson University in 1965 with a degree in Textile Management and spent the next 22 years working with Burlington Industries and Wendell Fabrics.  Haskell worked with Lawson Hemphill and Wendell Fabrics as well prior to starting Weavetec.
Weavetec initially operated 2 Dornier Dobby looms in a small leased space.  During its first two years Weavetec quickly grew to 12 looms and constructed its original Spartanburg Plant.  By 1990, Weavetec had expanded its dobby upholstery manufacturing base and purchased its first jacquard loom to weave throws.  During a similar timeframe, Simply Country Wholesale was incorporated in Wytheville, VA to provide throws and other home décor products to the Gift Industry.  Weavetec and Simply Country initiated a partnership in 1990 which would be the basis for a significant expansion of both operations.  The Weavetec/Simply Country partnership was extremely successful. By 1992, Weavetec had added an additional weaving facility in Blacksburg, SC to meet the growing demand for both upholstery fabric and throws.  The Blacksburg facility was eventually named the "Charles N. McDaniel Plant" in honor of longtime employee and plant manager "Nubert" McDaniel.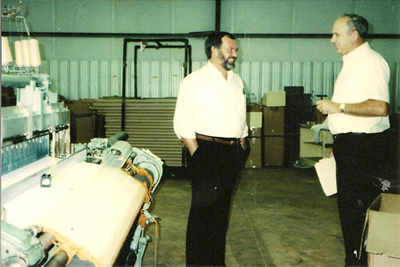 Photo: Harold Pennington, Sr. and Haskell Mallory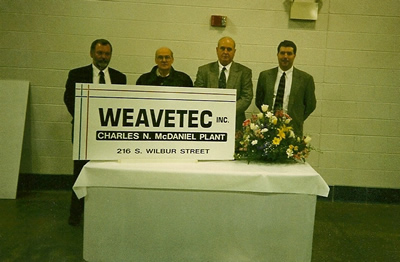 Photo: Harold Pennington, Sr, Haskell Mallory,
Harold Pennington, Jr. & Charles "Nubert" McDaniel
1994 – 2016
In 1994 Weavetec merged with Innovative Technology. Innovative was owned by Harold Pennington, Jr. and provided finishing services for the growing business. Innovative had begun in 1990 to provide finishing and packaging exclusively to Weavetec but had since expanded to offer a wide range of finishing services to the local textile industry. After the merger, Weavetec operated 4 plants in upstate South Carolina totaling almost 100,000 sq. ft. with 100 looms and 200+ employees. By 1995, the niche throw business had peaked and the Weavetec/Simply Country partnership model was less competitive. The competition had grown more vertical and both companies realized it would be difficult to continue operating as two separate profit centers. In October 1995, the original partnership culminated with Weavetec purchasing Simply Country. Simply Country subsequently began operating as Simply Home, a division of Weavetec, Inc. In 2001, the Pennington family purchased Mr. Mallory's ownership in Weavetec.
The American textile industry has experienced a significant decline since 2000. Weavetec consolidated its weaving operations into the Charles N. McDaniel Weaving Plant in Blacksburg in 2003. Weavetec ultimately sold the Simply Home business unit to HomTex in late 2016.
2016 - Now
Weavetec's ongoing success is the result of a dedicated staff and development of a diverse product offering catering to niche textile industries.
Weavetec continues to focus on its 3 core business units:
Home Furnishing Fabrics – Weavetec serves as the primary manufacturing partner for multiple converters. Fabrics include upholstery, drapery, and home décor accessories. This unit has expanded from three primary converters in 2000 to 10+ and growing in 2011.
Specialty Fabrics – Weavetec manufactures specialty fabrics for safety apparel, filtration, instrument case, belt substrate, wall panel and room divider applications. In 2008, Weavetec further expanded its specialty fabric production to include an equestrian fabric line previously produced by Sherman Textiles.
Home Décor Accessories – Weavetec manufactures custom tapestry home décor accessories and gift items on a contract basis for distributors and designers.
Weavetec continually searches for opportunities to explore new markets and partner with new customers to continue expanding the business.
Contact Us